First-Time Mom: What's In My Hospital Bag
As a first time mom, I was extremely overwhelmed with trying to figure out what on earth I needed to bring to the hospital for Ben's arrival. Some say to over pack, some say to bring the bare minimum, yes pack diapers and wipes, don't pack diapers and wipes; It is a lot to take in!
I took an entire day off going through over 50 different hospital bag checklists I found on Pinterest, listing everything that was mentioned in each one and tallying everything that was mentioned on another. Some were kind of obvious, and some things that were essential weren't even listed! I saw 'Makeup' and 'Hair Straighteners/curlers' more than I saw 'Toiletries.' It was shocking to say the least.
This is the list I have come up with that best suits my needs as a first-time mom. There are some items I knew I would not even touch, like makeup and hair styling tools, and others that are essential for my comfort. I guess what we've packed would be considered 'minimalist,' but this list was what we thought would be most beneficial for us to have!
In an odd way, I feel fortunate that we have had to go to Labor & Delivery fully prepared to have our son, only to be sent home. There were a few things on my initial list that I had not thought of that I wished I had brought. Those items will be in italics, and these items are now packed away in our bags!
We'll start with what we are packing in the first Diaper Bag, for the Baby.
From Left to Right:
Geranimals Black Newborn Pants

Newborn Sleeper
We aren't too picky with what we are bringing him home in, solely because we've been on emergency baby watch since I was 30 weeks! My threatened preterm labor had these bags packed and ready with some preemie outfits, and trying to order a customized outfit to take him home in was put on the back burner (and stayed there). Those preemie onesies have since been removed and replaced with the ones above! Nice and simple is the direction we've gone. I plan on breastfeeding him, so bottles and whatnot were not needed. My body has already started making colostrum, so I'm hoping we'll have no troubles with breastfeeding. Same with diapers and wipes; My Hospital provides all the baby essentials, so bringing our own seemed silly.
Now for what I packed for my Husband.
Pajama Pants

T-Shirt

A Book he's been reading

Socks

Underwear

Old Navy Long Sleeve Shirt

Empty Notebook

Pillow from home in a colorful pillowcase (not pictured)

Blanket from home (not pictured)
My Husband doesn't need much. We figured a change of clothes and some pajamas should do him just fine. He is very much into reading, and has not been able to put this book down that he borrowed from a friend. We also brought a notebook to write things down in. The first time we thought Ben was on his way, the doctors would tell me important things in the middle of a strong contraction and I would completely forget what they had just said! Having a notebook on hand to write these things down was super helpful that first time! We are both pretty particular about pillows and with his allergy to feather pillows, I was sure to set aside some of our own. We changed out our usual white pillowcases for a bright and colorful ones as to not confuse them with a hospital pillow. Same with the blankets. Our hospital is quite chilly and rolled up in its own duffel bag is a king sized knit blanket for my Husband. He's 6 foot 5, and most blankets do not fit his long legs!
And lastly some other essentials.
From Left to Right:
Starbucks Gold Glitter Venti Tumbler

Extention Cord

Bluetooth Speaker

Nintendo Switch (charger & accessories not pictured)

Portable Charger

Phone Chargers

Instax Mini & Extra Film

Wallet (Photo ID & Insurance Card inside)
So, first things first, water intake is crucial for me. If I don't drink enough water throughout the day I get super nauseous and dizzy. I've found that I tend to drink more water if it's in a large, distracting cup with a straw - thus the giant Starbucks cup. Through traveling so much in my life and my career, I have found that it's SO much easier to plug everything into a longer extension cord than to have your devices plugged into 3 different outlets across the room. Especially if the only outlet is a bit further away; Extension cords have saved my life! Next is a small Bluetooth speaker. I'm not sure if I'll want to listen to any music while I labor, but if I do it's charged and ready to go. We decided to pack the Switch so that if we do have a longer stay at the hospital due to a longer labor or if little one ends up in the NICU, my Husband will have a way to entertain himself. We have our phone chargers, a portable charging block and wallet, which are very much essential! And lastly, my Instax Mini and some extra film. Sporadically through this pregnancy, we have taken 'bump shots' with my Polaroid camera, and want to finish it with the last bump shot being in the Hospital before Ben is born. The extra film is for other pictures we'll take after Ben is born as keepsakes for his memory book.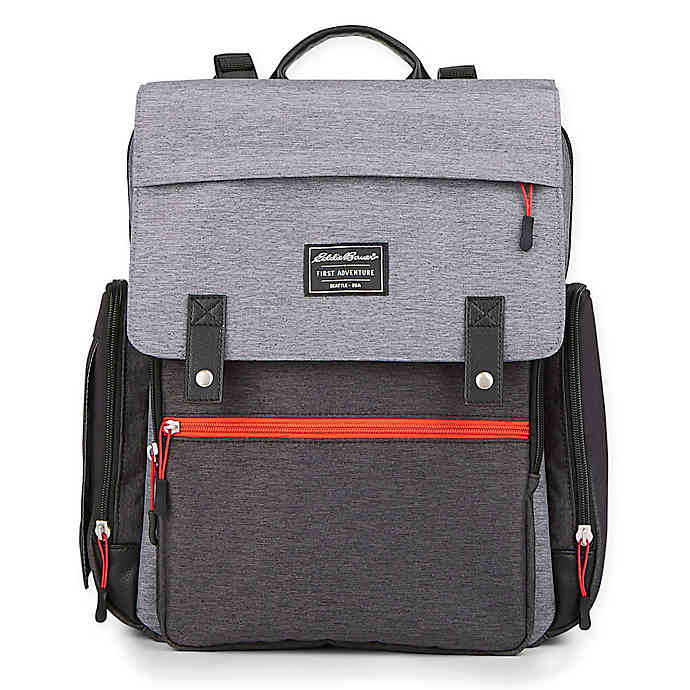 And all of that fits into THIS diaper bag!
I have nothing but wonderful things to say about this Eddie Bauer backpack diaper bag. There are SO many pockets for all kinds of things, and I am so excited to use this when Ben arrives!
And finally, what I have packed for myself. I kid you not I have repacked this bag and down sized SO many times with how much I was bringing in quantities and outfits. This is what I ended up with!
From Left to Right and down:
Victorias Secret Pink Fuzzy Slippers

'Mama Bear' T-Shirt

Black Nursing Bra

Black Nursing Tank

Assorted Dark Colored Underwear

Old FlipFlops

Rubber Bottom Fuzzy Socks
For myself, I brought the most comfy basics I could think of. I'd want to be as comfortable as possible on the 30 minute drive home, hence the leggings and t-shirt. It's still quite hot here in the Northwest, and a light sweater is far from needed. Same comfy idea with the pajamas and robe. I'm not sure how long we'll be staying at the hospital, so comfy pajamas are a must. My feet get cold quite fast and in the winter time I LIVE in fuzzy socks (these I did use in my overnight hospital stay!). The flip flops are going to be nice when I get to shower afterwards and fuzzy slippers to wear when family comes to visit him.
And finally, the Toiletries!
From Left to Right and down:
Lavender Scented Shower Fizz

Toothbrush Holder

Red Coin Purse with Hair Accessories (Ties, Bobby Pins, Hair Pins, Snaps and a scrunshie)

Hairbrush & Comb

Tums

Secret Clear-Drying Gel Deodorant

Hello Charcoal Toothpaste

Toothbrushes (Husband's and Mine)

Frizz-Ease Take Charge Mousse

Madela Nursing Pads

Exuviance Clarifying Facial Cleanser

Bumble & Bumble Invisible Oil Shampoo & Conditioner Sample Set

Burt's Bees Honey Chapstick

Bumble & Bumble Don't Blow It Styling Creme

Goldbond Ultimate Healing Aloe Unscented Hand Lotion

Yellow Floral Sleep Eyemask

Preparation H Wipes

First-Aid Beauty Ultra Repair Creme Moisturizer

Softsoap Pomegranate & Mango Bodywash

Young Living Lavender Linen Spray & Baby Oil

Warby Parker Glasses Case

Eyebuy Direct Prescription Glasses

Hubble Daily Contact Lenses (enough for 3 days)
This list seems so much more complex than the rest… But yay for travel-sized products!!! I am bringing a sample size of Shampoo & Conditioner, as well as some other shower essentials. Knowing myself and with the few surgeries and things I had undergone, showering always makes me feel much more awake and clean. I've recently been using shower fizzies since I was advised to stop taking baths. Baths have always been my go-to for calming my body and feeling refreshed with a fun bath bomb. Discovering shower fizzies have been a life saver, and they sure can help me relax and feel refresh. Whether I use it during or after labor is a decision I'll have to wait for! I also brought some hairpins and product to throw my hair up in a bun after my shower, or maybe a braid; Who knows what I'll be feeling like after giving birth. I do wear glasses and contacts, and these items were probably the first that I had packed. Especially the Hubble daily lenses that I wear! These are fantastic, especially for situations like this. They come individually packaged and can be thrown out after one use. No fussing with a contact case or bottle of solution! One thing I am SO glad I brought was Chapstick. If these's anything I reached for most other than my giant glass of water was my chapstick. Hospitals are so weird and dry and my lips were having a hard time, even with the IV drip and my constant consumption of water. We stayed through the night with the first preterm labor scare, and the constant lights turning on and off had me unable to sleep at all. This eye mask I got a few years ago is going to be super helpful if I have to Labor through the night again. I threw in some nursing pads since I have been leaking, and hemorrhoid wipes that I've been using (like Tucks Pads, but wipes).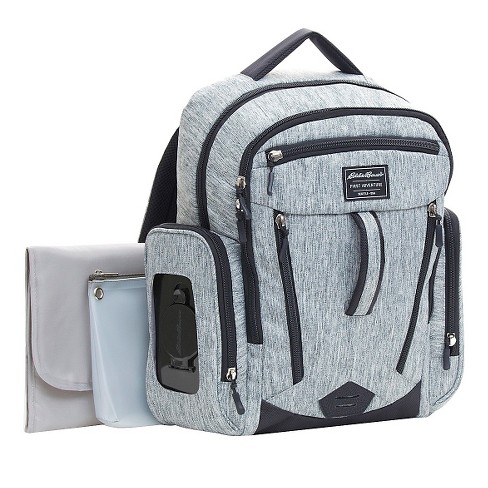 And I have somehow managed to fit all of my needs into this Eddie Bauer Backpack diaper bag. I was gifted two diaper bags at my baby showers and I am just as excited to use this one for Ben as I am with the other. This one is a little more fashionable which I really like and again, SO many pockets!!!
And that is it! Everything is packed in the car and ready to go whenever our little man is! This meaning it's been in the car for the last month with my threatened preterm labor, and I've repacked it more recently now that he's past early term…
I plan on following up with what I actually uused in my hospital bags and it'll be very interesting to see what I could have brought and/or left behind! By the time this post is live, I'll have passed 37 weeks and probably still awaiting the birth of my first child. Hopefully the isn't too much longer of a wait!
This is all for now lovelies!
Tootles,
~ Izzy